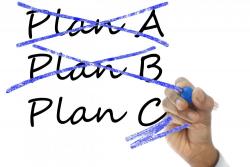 Exhibit and event managers are always ready with alternate solutions when the unexpected happens. Missing freight, damaged graphics, and flight delays are not uncommon problems at trade shows. When companies are signing contracts for exhibit space, there is often a clause about "Force Majeure," unforeseeable circumstances that prevent someone from fulfilling a contract. In years gone by, most exhibit managers thought concerning a natural disaster like earthquake, hurricane, or tornado. The reality we now live in also includes terrorist attacks.
What would you have done if you were a company exhibiting at the major international food show in Paris last November when terrorists struck? The truck with the exhibit is at the dock ready to deliver. What is your company's policy or procedure for this situation?
Show management and the venue increased security. Trucks unloading were monitored and all materials subject to search. Exhibitors working in the hall faced more scrutiny and document inspection before entering, which although time-consuming, was welcomed by everyone.
Now is the time to talk to your exhibit builder in advance to review the options. If you exhibit as planned, keep your customers informed through social media outlets. If your company decides not to exhibit consider creating a visitor lounge in the space. Ask your builder to provide additional furniture and plants to create the lounge and don't forget to include signage.
Living in a global society, we want everyone to be safe. These suggestions will help your staff be prepared.
Make a photocopy of your passport and keep in a separate location.

Print a map showing the venue and hotel in case public transport is compromised and taxis are not available - walking might be the only way back to the hotel and the strength of your phone service may only be 1 or 2G instead of 4G

Keep your mobile phone charged and have a power bank rechargeable battery back-up ready

Have a list of alternate airports if you need to change your routing along with train service and rental car agencies.

Give local consulate and embassy information to all team members 
Being prepared with plans for difficult situations is another day in the life of trade show and event managers. The stress for you and your team will be reduced when you are ready with alternate action plans to meet whatever challenge lies ahead. We can help develop your strategies to be ready. Contact us by email or call 817-370-1400.
---