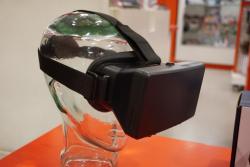 Technology has been integrated into exhibits for many years – the newest addition is virtual reality. While there is no substitute for face-to-face marketing, adding virtual reality to your exhibit program can enhance the attendee experience and increase their knowledge about your product or service.
How can using virtual reality contribute to achieving your marketing goals? VR can demonstrate products in a unique way, especially for large products that ordinarily could not be exhibited in a trade show environment. Unlike a conventional video, the 360 VR experience is immersive. Choose to show a hands-on tutorial or highlight your production process.

What should you consider when developing content? It is important to connect the content to your brand and product. A cool video is nice but if there is no tie-in to your product, it's a waste of money. Keep the presentation time short, under five minutes. This is an immersive experience so consider including sound. Stream the VR to screens so your sales team can talk about the experience with customers.

Like any new technology, there are equipment choices to consider. High-quality headsets are available for rent versus purchasing less expensive mobile device versions. While the cardboard headset is less expensive and can be branded as a giveaway, PC based equipment facilitates a more immersive, high-end experience for attendees. Be sure to have multiple headsets available to avoid visitors waiting for the headset to be wiped clean after each use. Sturdy, comfortable seating with sound will enhance your customer experience.


Securing the correct equipment and content for your presentation are the start but then what? Utilize social media channels before and during the show to create interest. Prior to the show, invite customers to come see "what's new" When possible, schedule appointments to eliminate (or reduce) waiting time for their VR experience.

Need help planning your next trade show or event? For assistance contact us by email or call us at 817-370-1400.