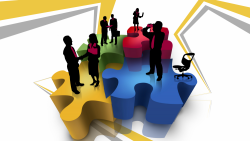 Trade shows continue to evolve and incorporate new ways to engage attendees in meaningful ways. An exhibition provides a face-to-face sales opportunity to interact with prospective and existing customers. Experiential marketing in an exhibit is another way to achieve strategic goals and increase market share. Whether your company is exhibiting in the U.S. or overseas, consider these guidelines as you start your planning.
Any exhibit plan begins with allocating proper space for your interaction. Touchscreens and tablets do not require as much space as live demonstrations, games or virtual reality activities. If using these, make sure areas are open, inviting and accessible to attendees. Consider the best way for customers to see, hear, and experience what's new.
Utilizing pre-show mail and social media channels can generate interest and buzz before the show opens. During the show, keep engaging your audience with real time posts on social media as well. Once the show is over, continue to reinforce your message and brand awareness by posting pictures of attendee interactions on social media and email follow-up.
Technology gives attendees an opportunity to spend more time in your exhibit. Touchscreens and tablets engage customers and lets you capture valuable information. In addition to being fun, games and contests are a great tool to reinforce your brand and product information. Virtual reality and augmented technology can be effective to showcase products in a unique way.
Engaging your audience doesn't necessarily require technology. Giveaways and promotional items are a staple in trade show marketing. Consider what items will be useful to support your message and generate leads. Photo booths in a branded space with your logo  creates lasting memories. Live entertainment attracts attention to your exhibit, engages the audience and is a great way to capture images to share on social media while reinforcing your message. Live entertainment and demonstrations require more space so plan accordingly.
Need help planning your next trade show or event? For assistance contact  info@globalexhibitmanagement.com
or call us at 817-370-1400.