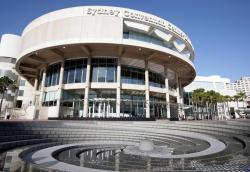 December 2013 marks the end of an era when the Sydney Convention & Exhibition Centre at Darling Harbor closes to make way for a new International Convention Centre Sydney (ICC Sydney).
The existing facility will be torn down and a new facility built on the same site with a target completion of December 2016. In the interim, the Sydney Exhibition Centre at Glebe Island, with 20,000+ square metres of exhibition space, is available with temporary expansion areas for larger shows. City hotels throughout continue to host exhibitions and conferences.
While Sydney undergoes its facility transformation, the Melbourne Convention and Exhibition Centre, the first convention centre to be awarded the 6 Star Green Rating, continues to thrive. With over 30,000 square metres of clear span floor space, the MCEC boasts the largest exhibit space in the Southern Hemisphere with technologies to support both large and small conferences.
Major hotels are within walking distance of the MCEC while dining, entertainment and the downtown area easily accessible. Melbourne is a financial and business center for Australia and the Asia Pacific region. After you've been there, you will see why it has been voted most livable city for three years.
Before planning your exhibit or event in Australia, use the following tips to make your show successful.
A visa is required to enter Australia. Instead of a stamp in your passport, the visa is electronic and can be done online.

Electrical current is 220v. If you're bringing equipment from the U.S., check the power requirements and arrange for a transformer in advance. Most electronics, such as laptops, tablets and mobile phones, run on dual current but take along plug adapters.

Since they're in the Southern Hemisphere Australia's seasons are opposite of the United States so check the weather before packing your bags.

Australia drives on the left like the United Kingdom.
Keep in touch with the latest news from Down Under and around the world with Global Exhibit Management.