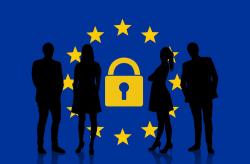 International trade shows are full of acronyms, so what is the newest addition to the EU's alphabet letters that will impact U.S. exhibitors? GDPR is the General Data Protection Regulation that goes into effect May 25th 2018. The goal of GDPR is to protect personal data and prevent data leaks as well as unwanted marketing solicitation. American companies participating in European exhibitions are impacted by this legislation-fines for noncompliance can be as high as 4% of your company's annual revenue.
Any company with customers in the European Economic Area must comply. This area includes the EU, UK, Norway, Iceland, Liechtenstein and Norway. In the past, exhibitors would gather information from customers and attendees, enter it into the CRM system and begin sending information after the event. GDPR makes this process unlawful.
The GDPR is not all gloom and doom for exhibitors collecting information- you simply must ask the attendee for permission. If an attendee leaves a card at your exhibit, they must be contacted for consent before sending information.
How to get started? Raise awareness by updating your data protection policy and adjust your databased to ensure compliance with new regulations. When requested, your company must have proof of legitimate use of date. Store customer consents with their details and personal information. Train staff members to understand new practices for   data collection and protection. When collecting data, ensure the attendee has given explicit consent to process their information for one or more specific purposes such as receiving newsletters, product or service updates.
Are you using lead retrieval technology or apps? It is important to check data protection technology and tools to be sure the data collection is compliant with GDPR. If you have handwritten forms, confirm if those are compliant with the new GDPR regulations. In addition, be sure digital solutions that handle your attendee information also comply with GDPR regulations.
Need help planning your next trade show or event? For assistance contact  info@globalexhibitmanagement.com
or call us at 817-370-1400.