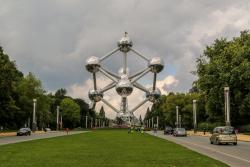 Brussels, capital of the European Union, is the site for diverse international trade shows and conferences. The city's exhibition and conference venues integrate history in addition to state-of-the-art facilities. Trade show and event managers appreciate the diversity of venues for conventions and product launches. Brussels is relatively small in comparison to other European capitals which makes it a desirable location for global events.
Brussels is accessible worldwide and once there, it's easy to get around the city. All major airlines provide service from the U.S. to the Brussels Airport. Inner-city public transportation has a unified ticketing system that can be used on the metro, bus or tram. A Brussels Card provides you unlimited public transit, free entry to all museums and discounts to local attractions. You can learn more here https://visit.brussels/en/sites/brusselscard. Taxi and shuttle service is also available throughout the city. If possible, try to include some time in your schedule to visit the iconic Atomium and Manneken-Pis. The Grand Place is a must see, UNESCO World Heritage site.
Brussels has several venues available for private events and trade shows. The Brussels Expo is the largest venue that can accommodate attendance ranging from 400 to 10,000. The Square Brussels Convention Center offers state-of-the art facilities and is sustainably managed with easy access to the central train station.
Exhibit regulations in Brussels are consistent with other major European venues. Exhibit design is subject to show management approval and must adhere to local safety regulations. Exhibit structures are system as well as custom fabrication. On-site building has been reduced due to the high cost of waste removal. Graphics can be produced as digital prints or large format fabric panels. Electrical power is 220v with two pin plugs so don't forget to order transformers and remember to bring plug adapters. The Value Added Tax (VAT) rate of 20 % is applied to exhibition services and can be reclaimed by US companies.
Need help planning your next trade show or event? For assistance contact  info@globalexhibitmanagement.com or call us at 817-370-1400.
Image