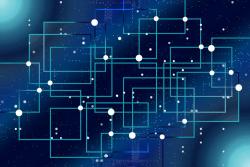 Technology in trade show exhibits is more than just special lighting effects and video walls. Radio Frequency Identification (RFID), is an exciting technology that captures valuable information exhibit managers can use to measure who visits the exhibit, how long they stay and what areas attract the most attention. Organizers have embedded RFID chips in badges to gather show data but now exhibit managers can use the same technology within their trade show booth.
Measuring your return on investment at trade shows and events is an integral part of successful marketing programs. Tools used to analyze data such as leads that become sales, cost per lead, and effectiveness of pre-show marketing materials have been used for years.
RFID technology is a newer tool that provides exhibit managers with data about their exhibit. RFID chips can be embedded in lanyards or badges to track visitors in the exhibit. The chip can be inserted in specially branded radio frequency floor technology mats at the exhibit entrance. Antennas placed around the exhibit transmit the information to a server.
Exhibitors using RFID attendee tracking technology have a unique opportunity to gain insights into attendee behavior within their booth. This includes how much time visitors spend at a demonstration or product area.
Analyzing RFID data after the show enables exhibit managers to make changes or additions for upcoming shows. Booth layout can be changed to enhance traffic flow to attract attendees to popular services and products. Demographic data can provide insights into attendee preferences or interests which can be sorted geographically or by job titles.
Exhibitors need to keep in mind that effective May 2018, General Data Protection Regulations (GDPR) go into effect in Europe. Consult with your data compliance team to review the data you collect and how you will use it. Together you can develop a plan for obtaining consent, storing the consent and data.
Need help planning your next trade show or event? For assistance contact us by email or call us at 817-370-1400.