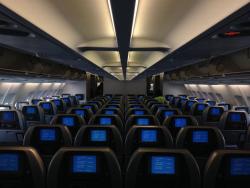 International exhibit and event managers manage various challenges associated with implementing trade show programs. While overseas travel can be fun and rewarding, long-haul flights are not easy. Budget restrictions and company travel policies may not allow for business class travel. Here are some tips to share with trade show team members, many of whom may not be experienced travelers, to make transoceanic flights easier.

Seat location – seat selection is important when you are spending eight to eighteen hours in an airplane seat. Purchasing tickets early will ensure good fares and seat location. Exit row seats may have more legroom but are often located near restrooms, may be cold and the window seat might actually have reduced legroom because of the door. Exit row seats on some airlines may not recline as much as other seats. Visit SeatGuru to view recommendations on seats, specific to your airline and aircraft.

Cleanliness – bring anti-bacterial wipes for tray tables, armrests, and seatbelts. Many travelers recommend boosting immunity defenses by taking vitamins or products like Airborne.

Personal comfort – travel accessories such as a neck pillow, travel blanket, eyeshades, and noise canceling headsets will make you more comfortable on long flights. Quality travel products can be found on Cabeau.

Hydration – drinking water before and during flights is a good idea as well as avoiding alcohol and caffeine.

Carry-on - checking luggage will keep your carry-on to a minimum so you can utilize the overhead bin, keeping the space under the seat in front of you free for extra legroom. As a safety precaution, pack a few extra days of medication in your carry-on and a change of clothes for one day. Check your airline for weight restrictions for both checked AND carry-on luggage. You may also want to take a few pre-packaged snacks to enjoy on the flight between meal service.

Being prepared for long-haul flights will help make the journey more enjoyable. Allowing extra days to recover from jet lag and adjust to different time zones will help your team is getting ready for the show. A successful event or show begins with preparation for you and your team. For more travel tips, visit our travel tips page.