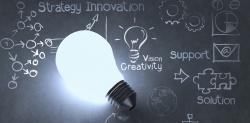 Trade show and event managers adapt to changes every day whether it's an unexpected column in the exhibit space, missing shipments or travel delays. While the pandemic has negatively impacted live events worldwide, it is also creating opportunities to expand companies' market share using new platforms. Though is no substitute for face-to-face marketing, when exhibitors return to convention centers, their digital presence with customers will complement live events. Adding digital trade show exhibits and digital meetings are a great addition to every marketing program.
2020 saw many shows shifting from live to digital formats out of necessity. In the near future, events will continue in a hybrid environment giving exhibitors the opportunity to exhibit live and digitally. This gives exhibitors increased customer access, those that come to the show and those that remain in the office.
A digital trade show exhibit is created using 3D imaging and is interactive so customers can view on-demand videos, download brochures and data sheets, chat and access the website. Once a digital trade show exhibit is created, it can be used for in-house meetings and executive briefings in addition to being used at multiple simultaneous shows.
For companies wanting to customize interaction with customers away from the confines of the show organizer, digital meetings are another opportunity to increase contact with customers. While Zoom, Microsoft Teams, and GoToMeetings are effective platforms, digital meetings enable companies to deliver content in a branded environment. Customers can watch keynote and panel sessions, participate in breakout sessions, network with other attendees including video chat. Pre-recording the sessions enables your speaker to interact live with attendees in the chat area. When considering utilizing a digital meeting, make sure your budget includes live tech-support for customers to access in the event they experience any technical difficulties. Adding a virtual happy hour at the close of the meeting can create a fun and memorable experience giving customers another opportunity to interact.
These are exciting times for trade show and event managers to expand their reach with new and existing customers. We're ready to help build your experiential programs to expand your business worldwide. Visit our website https://globalexhibitmanagement.com/ call us at 817-370-1400 or email info@globalexhibitmanagement.com