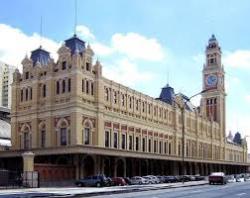 São Paulo, the largest city in Brazil, is considered the hub of Latin American business. Today São Paulo is home to multinational corporations in various industries. The international trade shows and conferences reflect the economic diversity of the city. Nineteenth century prosperity began with the coffee industry then continued with industrialization. The city's rich heritage of immigrants from Portugal, Italy and Japan contribute to its unique culture.
Some of the major exhibition venues in São Paulo are Parque Anhembi, Expo Center Norte, Transamérica Expo Center, Frei Caneca Center in addition to major hotel facilities. Electrical current is 220v-60hz. Electrical plugs have two prongs and three with grounding pin - be sure to bring transformers and plug adapters for equipment coming in from overseas. Visit this site for complete information.
Exhibit structures can be designed with systems or custom fabrication. Materials utilized in fabrication are subject to show management approval and adherence to local fire regulations. Most venues require raised flooring so check with the organizer for regulations. Carpet tiles, roll velour carpet and laminate flooring are standard. Graphics can be produced from digital files but check with your contractor in advance for format requirements.
São Paulo Guarulhos International Airport is serviced by major airlines around the world. Airport bus, transfers (vans) and taxi service are readily available. The city has a good metro and bus system with station signage in English. Entry requirements are a passport with six months validity remaining and a tourist visa. The visa application must include a passport-size photograph, certificate of vaccination (check current requirements), complete set of photocopies of return or onward airline ticket and letter from the exhibition/conference organizer. Once the visa is issued, entry to Brazil must be within ninety days of receiving the visa.
Avoid the stress of working overseas by taking time to prepare and selecting an experienced contractor like Global Exhibit Management.