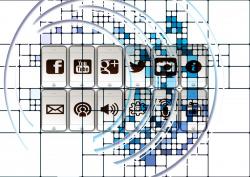 Trade show and event managers are using technology outside the exhibit as well as in the booth. Mobile apps are now incorporated into the marketing plan to increase booth traffic, engage attendees before, during and after the show. Interactive technology is not just to be considered in the exhibit design. Utilizing event apps can be part of the overall trade show plan.
Apps will keep your company connected with customers about presentations and special events in real time. There are several ways to use mobile apps to maximize your return on investment for the show.
A mobile app can be a valuable asset to achieving your marketing goals. The app lets you connect directly with your customers and prospects to schedule appointments. Event apps also allow you to get feedback about your exhibit, demonstrations, presentations or sponsored events. This information will be helpful in planning future events.
Here are some suggestions on how to use the app before, during and after the show. Start by using your company's social media to promote your app on the website, include it in the advertising campaign to get as many attendees as possible to download the app.
Track the downloading – consider including incentives for downloading your application. If you are sponsoring sessions or speakers, monitor registrations to ensure your room is the appropriate size.
During the show, use data to analyze feedback from your attendees and customers. Ask them to complete a questionnaire to learn what's been effective and make adjustments for future events. Poll the audience to continue the interaction. Follow-up with attendees who were the most engaged to get more
in-depth information.
Just because the exhibit is dismantled and packed, the show isn't over without post-show feedback. Review and analyze the information from your app usage. When did app get downloaded? Were there links to sponsor offers and if so, what were the results? Sending a survey will also generate information to help with future planning.
Need help planning your next trade show or event? For assistance contact us by email or call us at 817-370-1400.
---