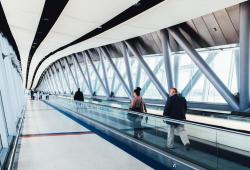 While worldwide travel can be exciting, waiting in long lines at airport security checkpoints can be frustrating. Trade show managers spend time waiting for space selection, budget approvals, and freight deliveries. Though there is so much waiting time exhibit and event professionals can't control, now flying through airport lines faster is possible with trusted traveler programs.

Global Entry is the U.S. program for its citizens to expedite Customs clearance coming into the United States. The program allows pre-approved, low-risk travelers to bypass long lines when entering the country. Global Entry members are also eligible to register with TSA pre-check. Upon entering the U.S., travelers can proceed to the Global Entry kiosk for passport reading and fingerprint verification to complete the Customs Declaration. Once approved and paid, the Global Entry is valid for five years. Learn more about the Global Entry program here.

The NEXUS program is available for U.S. citizens traveling to Canada
Do you want to move through security lines even faster than TSA Pre-Check? Many U.S. airports have a Clear membership program. This paid service helps you clear security in five minutes or less. The Clear service has trial memberships available at a reduced cost. 

Registered Traveler membership is available if you have visited the U.K. at least four times in the last twenty-four months and have a valid passport. Once the application is completed online, you will be directed how to provide documentation proving entry to the U.K. in the last twenty-four months. Part of the fee will be refunded if your application is denied. Learn more about the Registered Traveler membership here.

If you fly into Schiphol Airport in Amsterdam frequently, Privium membership and lounges are available

Need help planning your next trade show or event? For assistance contact us by email
or call us at 817-370-1400.