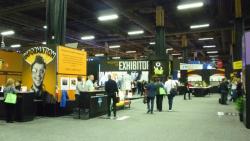 Exhibitor Show 2014 had the theme "Keep Moving" which is very appropriate for an industry that never stands still. Exhibiting companies and all the related service providers are in constant motion whether at a trade show, closing a show preparing for the upcoming schedule. Exhibition designers are looking for new products and technologies to create selling environments to deliver the marketing message for exhibitors.
Exhibitor Show is a great forum to see and exchange new ideas for the industry. This year many companies were showing new uses of fabric and inflatable structures. Fabric is no longer used only for graphics but as structural elements as well. Social media creates excitement with the ability to share information immediately about what attendees see as they listen to presentations and interact with new products. Creating visual interest with the use of various geometric shapes and natural products could be seen in several exhibits.
In the United States and around the world, lighter weight products are introduced to reduce transportation and drayage costs for exhibiting companies. Exhibition management companies and suppliers are developing products and technologies in an effort to continue to reduce the carbon footprint. Just a few years ago when a company built a new exhibit, the older properties were thrown away. More and more, exhibitors look for ways to re-purpose existing properties or re-sell them. The EDPA (Exhibit Designers and Producers Association) recently launched a Zero Waste Challenge program to its members' to recognize and share ideas for solutions to reduce the trade show industry impact on the environment.
In the end, there is still no substitute for face-to-face marketing. Trade shows are a unique selling environment giving exhibiting companies the opportunity to interact with customers. As we reflect on Exhibitor Show 2014, we will always "Keep Moving" as this business is never stagnant.
Image