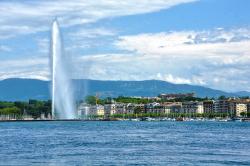 Geneva is more than the city of peace; it's a major European economic center and important exhibition destination. American companies looking to expand market share should consider participating in trade shows and events held in Geneva. Home to the European headquarters of the United Nations and International Red Cross, major multinational organizations are also based in Geneva. Exhibition management companies and professional societies have hosted successful trade shows and events in Geneva for decades.
There are several venues available for private events and trade shows in Geneva. The major exhibition center is the Palexpo which includes seven halls with over 106,000 square meters of space with no pillars to interfere with your exhibit. 
If your company is embracing "going green", the Palexpo has been recycling their waste since 1992 and has 30,000 square meters of solar panels on the roof for electricity. 
Switzerland is not a member of the European Union, so international shipping documents and protocol are required. Shipments coming from an EU country, need the same type of documentation.
Travel into Geneva is easy and convenient for international travelers, with direct airline service by major carriers. Like most European cities, Geneva is easy to get around using public transport trams, buses, taxis, and trains. For complete information on Geneva public transportation services, visit https://www.geneva.info/public-transport/
Remember to take plug adapters for any electronic devices or products for demonstration. The grounded Swiss plug has prongs closer together than European plugs. Hotels and electrical contractors may have capabilities to accommodate EU plugs but packing Swiss plug adapters will avoid last minute problems.
Exhibit structures can be a system or custom fabrication. Exhibit design is subject to show management approval and adherence to safety regulations.
Need help planning your next trade show or event? For assistance contact us by email or call us at 817-370-1400.
---