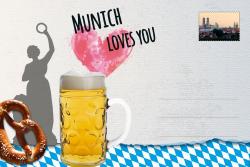 Munich (München), the capital of Bavaria, is considered the "Heart of Bavaria", is a major trade show and event destination. The rich heritage of the city isn't just about beer gardens and festivals. Founded by Benedictine monks in the Middle Ages, Munich today is a world-renowned financial and publishing center.
The New Munich Trade Fair Centre was the first exhibition centre worldwide to gain the certificate 'Energy Efficient Enterprise' from the technical inspection authorities. Trade show managers will find exhibition facilities designed with exhibitors in mind for function, accessibility, and beauty.
There are several venues available for trade shows and private events in Munich. The three major exhibition venues are:
The New Munich Trade Fair Centre has over 180,000 square meters of exhibition space in 17 exhibit halls, 16 of which are column-free.


 

The International Congress Centre Munich (ICM) is located next to the New Munich Trade Fair Center with state of the art facilities accommodating events with up to 12,000 participants.


 

The M, O, C Events Centre includes exhibition space, meeting/conference rooms with permanent retail offices.
All three venues are easily accessible by public transportation. Most events at these venues include an MVV (Munich Transit Authority) trade-fair ticket with exhibitor badges or conference badges. 
In addition to these exhibition venues, many hotels in the city center also have meeting and exhibition capabilities.
 
Travel into and around Munich is easy and convenient for international travelers. The Munich airport is the second busiest airport in Germany with service provided by over one hundred airlines including seventy-three direct connections.
Public transportation from the airport is available with train service to the New Munich Trade Fair Centre. During international exhibitions, shuttle buses provide service between the airport and the New Munich Trade Fair Centre.
Wherever your next international event is, avoid the stress of working overseas by taking the time to prepare and select experienced contractors. Read additional information and travel tips from us.