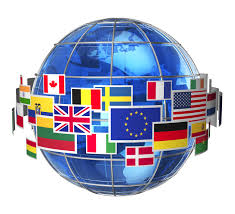 American companies looking to expand their market share are increasing participation in overseas trade shows. An exhibit managers' first experience with foreign shows may be overwhelming. This four-part series will share information to reduce stress in planning for international exhibits and events. Don't worry, there won't be any pop tests as we explore what you need to know to get started working abroad.
It may seem like a foreign language but it's just the words that are different when exhibiting overseas. Here is a list to start increasing your international trade show vocabulary:
Stand – the booth or exhibit is a stand

Mains connection – actual power connection to a switchboard for electrical in your stand

Steps – is a ladder

Perspex – is acrylic or plexiglass

Needle punch carpet – in most countries, this is VERY thin floor covering many Americans would find so thin, they would not consider it carpet

Underlay – padding, which is not available in all countries

VAT/GST – this is sales tax, VAT is Value Added Tax or Goods Services Tax.

Polystyrene – Styrofoam

Sticker or foil cut– computer cut vinyl letter or logo

Foil floor covering– visqueen –like material as a protection for the flooring used during install

Flying sign – hanging sign

Aluminum – the word is the same but sounds like al-u-min-ium

Platform – many exhibits are built on a raised platform floor

Fascia - header

Space only/shell scheme –the contract for space will be for space only or shell scheme stand
Paper sizes – in the U.S. standard paper/brochure sizes are 8-1/2 x 11 or A4 A44…..when ordering graphics or brochure/literature holders, these are standard measurement sizes for printed materials.
Give yourself time to understand the new trade show and event terminology and in the next blog, you can learn about the choices for what type of space to purchase at a show. If you encounter words you don't understand, please feel free to Email Us or call 817-370-1400.
Continue Reading
Introduction to International Exhibiting Part 2
Introduction to International Exhibiting Part 3
Introduction to International Exhibiting Part 4