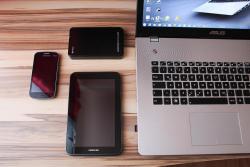 Technology and social media impact trade show and marketing programs both in the U.S. and at international events as well. It isn't just about Twitter, Facebook and hashtags, trade show managers need to be sure the company website is "mobile friendly" too. The latest search engine algorithm change for mobile devices could leave your website off searches if it is not formatted for tablets and smart phones. Exhibit graphics and messaging incorporate social media and QR codes to engage the audience so mobile access should be incorporated as well. Successful exhibits and events incorporate interactivity with guests so make sure your website has mobility for attendees to access company information electronically.

In recent years, mobile device usage has been growing in all aspects of life and trade shows are no exception. With the increasing shift to mobile devices, it is no surprise that large search engines like Google are favoring mobile friendly websites. Major search engines are seeking websites that are mobile friendly so checking your company website for easy mobile access will ensure your company remains in the forefront.

What are the criteria to consider that will maximize your access on mobile devices? The easiest place to start is to think about the user. What information would they be searching on your website? Is the font easy to read?  What is the spacing between links, is it easy on to access on a small touchscreen? Google is ready to help by creating guidelines and testing tool, utilizing this information will help you avoid mistakes.

When users are searching for information on mobile devices, in addition to websites, results for apps will appear as well. Does your company have an app? If not, then consider adding one to your marketing plans. An app gives another opportunity to deliver your messaging and can have interactive features.

Mobile device usage will continue to increase at exhibitions worldwide so keeping your company relevant with mobility access, social media and apps is an integral part of your marketing plan. Attendees want immediate access to information both on and off the trade show floor. Adaptability is the key to any successful trade show program and increasing visibility electronically is just another component.

If you need assistance planning your next trade show, contact us at 817-370-1400 or by email.