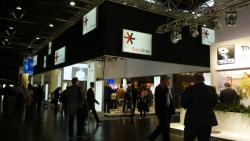 Euroshop 2014 is closed and time to reflect on what new ideas, products and services were highlighted for exhibition stand design companies.
Although the halls that featured store refrigeration equipment and fixtures are not as exciting for trade show exhibit attendees, there is always something interesting to see in every hall. Record breaking attendance figures reflect the importance of the show.
Trade show design and displays are an ever changing industry. New materials are developed and integrated into structural components, graphics and lighting. Lighter weight and green materials are transforming the way exhibit builders approach creating environments to deliver corporate messaging. Several manufacturers were demonstrating lightweight inflatable exhibit components. New composite materials allow designers greater creativity because of all the different shapes and sizes that are now possible.
Lighting techniques can create visual drama and draw the attendees focus to products and messaging. New LED lights are bright, colorful, cool to the touch and are helping to reduce the carbon footprint in the industry. Euroshop gives both retail and exhibit design companies an opportunity to explore what is new together at one show. Everyone was amazed to see "writing on water" at the Watershow stand as just one example the exciting new products.
Electronics and technology were exciting for stand builders, exhibition management companies and shop owners. New Smartphone Apps abound for shop owners to entice consumers. Apps, bar-coding, QR codes are all part of trade show attendee life. Exhibition management companies and associations could see how technology can streamline registration processes.

And now we just need projects with budgets to allow us to incorporate all the wonderful new products and ideas presented at Euroshop whilst we commence the countdown to the next show.