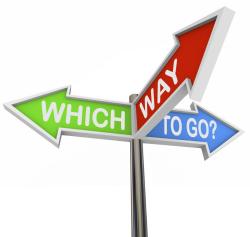 Exhibit managers make decisions daily that directly impact a corporate trade show program. Before starting on the exhibit design, be mindful of the implementation- should the booth be purchase or rental? There are several criteria to consider when deciding between renting or purchasing an exhibit (or stand*) before making a final decision.

ROI (Return on Investment) should always be part of the discussion with management and team members. What are the company guidelines on capital expenditures and the amortization schedule? Owning exhibit properties is an investment and should take into consideration the strategic objectives for the overall marketing program. In addition to annual storage, be sure to include some refurbishing money in the overall calculations. Transport costs are reduced when renting an exhibit from a local resource which may increase your budget per show, more "bang for your buck". Combining purchase and rental can be a third option. Purchasing components that would be used several times during the year could be supplemented with renting additional pieces for one or two larger shows.

Quantity of shows can help determine which is best for your program. If your company participates in a large number of shows, then owning and incurring the cost of storage would be a financially sound decision. In the United States, many companies prefer to own the exhibit properties. Internationally, unless your company exhibits in more than five shows per year in a geographic area, exhibit rental could be a better choice. Particularly in Europe where storing an exhibit can be expensive, if your company doesn't do very many shows, renting would be more cost effective.

Flexibility Custom modular exhibit structures lend themselves to flexibility to adapt to various configurations so purchasing this type of exhibit for long term use is appropriate.  Exhibit rental affords even more flexibility to make changes throughout the year. Technology is an integral part of many trade show programs to engage and interact with attendees. Whether purchasing or renting, this component should be considered with both options.

Graphics can be re-used for multiple shows in a purchased or rented exhibit. When re-using graphics for a rental exhibit, be mindful of the substrate choices that best suit your needs. Utilizing standard dimensions will ensure multiple uses. Graphics used for a rental exhibit in the U.S. can ship to your office, store with the local exhibit provider before shipping on to the next show. You can also ask your transport company about short-term storage possibilities. If you are re-using graphics overseas, those can be stored in an office or with a distributor, or exhibit builder.

As with all trade show decisions, there are many possibilities to help achieve success for your program. This information will help you weigh the options between purchasing or renting an exhibit so you can decide which direction is best for your company. Let us know how we can assist with your upcoming trade shows by emailing us or call 817-370-1400.

*Exhibit or trade show booth is the terminology in the United States, internationally stand is the more common word.